Work more efficiently with gas-powered tools. Discover the advantages of Ramset CableMaster C-Plus™, from power and autonomy to reduced noise levels and enhanced safety.
Technological advances have brought significant transformations to the tool industry particularly with power tools. Among recent innovations, the advent of gas tools has revolutionised the way professionals carry out their tasks. Gas-powered tools have all the power of their battery-powered cousins, without the bulk, noise and downtime lost to recharging.
Lightweight and able to get into the tightest of spaces, gas power tools are the gold standard for installers. Here, we take a look at some of the many advantages gas-powered tools have for professionals who need to get the right fix the first time.
Lighter, faster, more powerful
Gas tools have earned the reputation of being small and mighty, offering a combination of portability, speed and power. The Ramset CableMaster™ C-Plus lives up to this reputation with its compact size and impressive performance. This power boost translates into increased productivity, allowing professionals to complete their tasks with greater efficiency and accuracy.
Ramset technology has patented overdrive technology built into every gas-powered tool. The tool works under the same principal as a combustion engine. A little gas, a little spark and a powerful release, without the recoil associated with powder.
Don't let the compact design fool you – the CableMaster™ C-Plus is 12 per cent more powerful than its predecessor, producing faster and more reliable performance. Just like its predecessor, it enables fast, durable and reliable direct fixing for plumbing, data and electrical installations. As one of the lightest but most powerful gas nailers on market, it allows 10,000 nails per charge as standard.
Take pride in your tools – and your work – with the CableMaster™ C-Plus and see how this tool can enhance your workmanship.
Unmatched autonomy: 5x more than battery technology
When comparing gas tools to battery technology, the autonomy factor cannot be overlooked. Gas powered tools provide an astounding five times more autonomy than battery-powered alternatives. This increased capacity means professionals can cover larger distances, achieve more substantial results and complete extensive projects without the need for frequent recharges. To put it into perspective, the Ramset CableMaster™ C-Plus can cover up to 3km of cables or 1000 metres of tracks.
The longer autonomy afforded by gas-powered tools compared to battery-charged versions means the tool can maintain its power source for an extended period of time. This allows professionals to work continuously without interruptions, resulting in enhanced performance and reduced downtime. The Ramset CableMaster™ C-Plus is a game-changer for professionals seeking efficiency, precision and durability.
Knowing your tool is reliable and you can trust it to go the distance on the job? Priceless.
What the professionals love about gas tools
The emotional connection between professionals and gas tools is evident through the feedback we've received. Our customers tell us that they love everything about the new technology, with many swapping from battery-versions of our tools to the quieter gas-powered versions. Other reasons professionals are switching to gas tools include:
Weight: Gas tools are lighter
Performance: Less misfires thanks to reduced weight
Productivity: Gas tools have better cooling times due to their ability to dissipate heat more efficiently, ensuring prolonged usage without overheating and maintaining consistent performance.
Less fatigue, more flexibility
Working overhead can be physically demanding, causing fatigue and slowing down the progress of a project. Gas tools provide a solution to this challenge: the lightweight design of the Ramset CableMaster™ C-Plus minimises strain on the user, enabling them to work comfortably for extended periods.
Additionally, the tool's ability to get into tight spaces ensures that no area is out of reach, allowing professionals to tackle complex installations with ease and precision. The slimline nose design allows for great sight lines, with other clever features including soft grip on both sides of the handle, and belt hook shape allowing for 180 degrees rotation.
After a day on the tools, your body will thank you for using a power tool that reduces physical strain.
Enhanced safety and dust control
Everyone deserves to be safe at work. With studies telling us that breathing in dust while on the tools can have serious health impacts, it is important to be proactive about health and takes steps to reduce dust inhalation.
Gas tools prioritise the safety and well-being of professionals by incorporating features that minimise dust exposure and reduce health risks. The Ramset CableMaster™ C-Plus boasts low actuation force, enabling operators to achieve the right fix, first time, without exerting excessive effort. This not only reduces fatigue but also minimises the release of harmful dust particles, ensuring a healthier working environment.
No cords or hoses also means fewer trip hazards, enhancing safety on work sites and installation projects.
Sustainable excellence and reliability
In addition to their exceptional power and autonomy, gas tools offer remarkable reliability and longevity. With gas-powered tools like the Ramset CableMaster™ C-Plus professionals can confidently rely on their equipment to deliver consistent performance, even in the most demanding conditions. This reliability translates into fewer disruptions and delays, allowing professionals to meet deadlines and exceed expectations consistently.
A power tool with reduced noise levels
Compared to battery technology, gas-powered tools have less mechanical moving parts. This means less breakdowns, reduced after-sale service and easier maintenance. The quiet nature of the CableMaster™ C-Plus means it can be used in occupied homes and buildings.
Designed for a lasting, better fix into concrete, steel and masonry, there is no need to pre-drill to install cable, conduit or trunking. Users can feel safe in the knowledge that they are reducing dust, increasing efficiency and getting the job done faster.
Embracing gas tools is not just a choice; it is a strategic decision to enhance productivity, efficiency, and reliability in the ever-evolving world of construction and installations.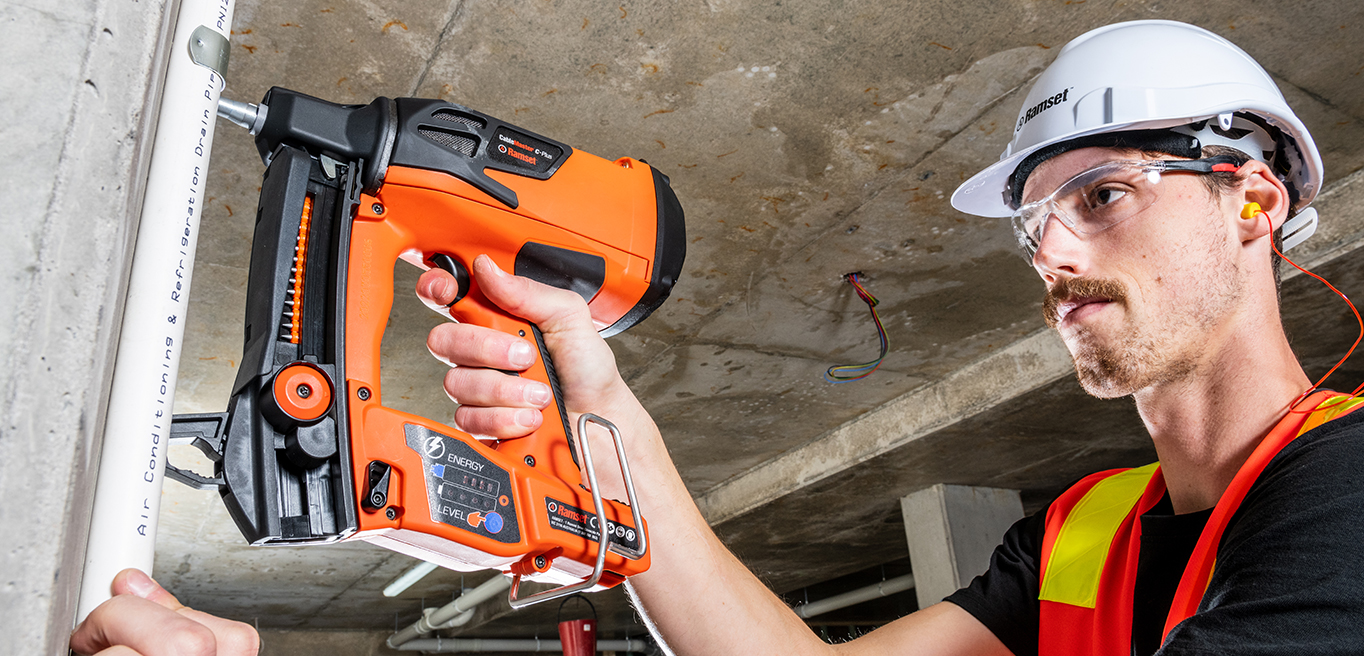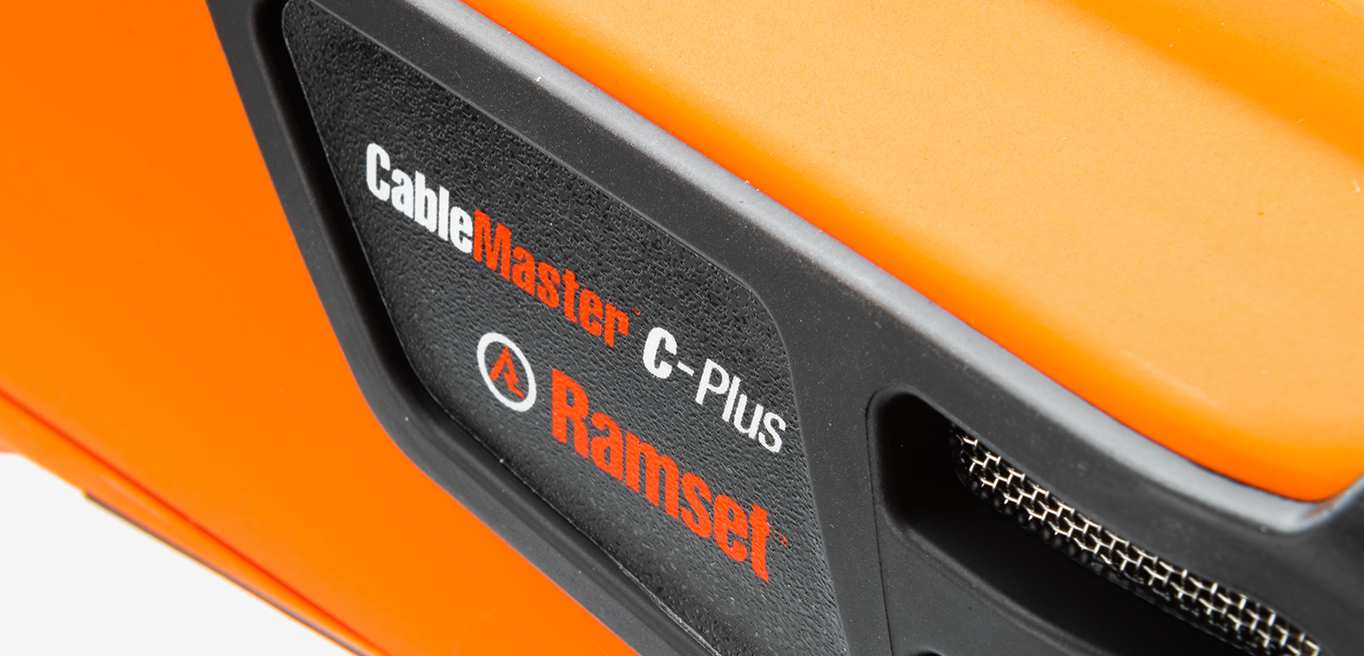 About the Ramset™ CableMaster™ C Plus®
The CableMaster™ C Plus® is a powerful compact cordless gas fastening tool with 95j of power, which means installers can get the job done faster with reliable direct fixing for plumbing, data and electrical installations. Designed for a lasting, better fix into concrete, steel and masonry, the CableMaster™ C Plus® will install cable, conduit, trunking and a variety of other applications using the innovative gas technology that provides 10,000 shots per battery charge. Work more and charge less with CableMaster™ C Plus®.